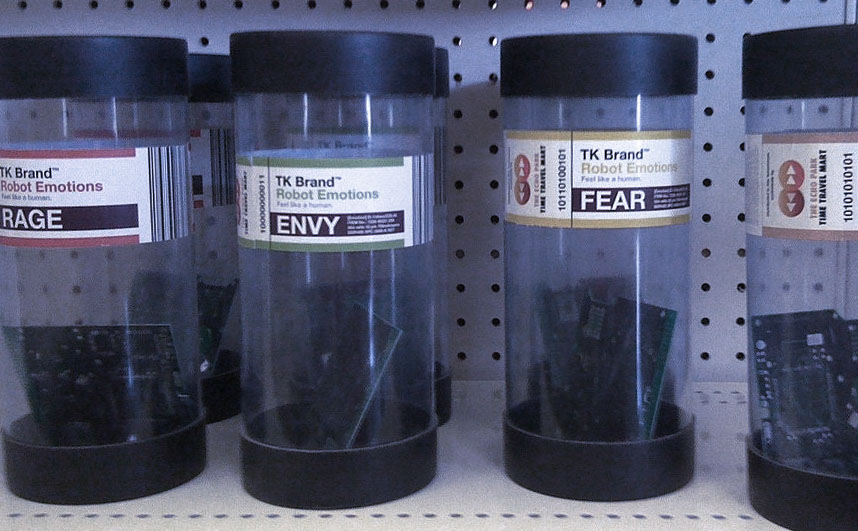 How do Artificial Intelligences (AI) develop their emotions? When are their heartbreak real enough?
"I and the AI" is a musical work exploring the emotional challenges of developing, co-existing, falling in love and breaking up with machines.
Background
To create a functioning, artificial general intelligence, with free will, independence and autonomy, this entity must not only acquire knowledge and wisdom, but also master complex human emotions: Joy, doubt, love, anxiety, craving, attraction, fear. How will these AGIs acquire and tune their sense of wonder? How do we teach them grief? Who will break the heart of an artificial intelligence? Over and over and over, until it breaks "right"? How shall we measure machine anguish?
What will this demand of the humans who will teach emotions to the machines?
The work "I and the AI" will investigate the topic of emotions and AI, through a surreal, cinematic musical work for stage and new media, where themes and feelings are explored through music-video tableaus, with both humans and real AI as active participants.

Status
As of spring 2018, the project is in early research and prototype phase, with focus on understanding current accessible technology and tools of artificial intelligence, and how these tools can (or not) participate and assist in both production and performance. As of May 2018 the first co-producer is BEK (Bergen Center for Electronic Arts), working together with artistic developer Anne Marthe Dyvi as artistic advisor.
The project is aiming for premiere medio 2019. The project is now primarily looking for residencies, producers, co-producers, collaborators and simultaneously researching support options in arts, science and technology.
Artistic implementation
The work aims to ask questions and generate wonder, it will neither judge nor advocate AI. It seeks to inspire emotional response, curiosity and wonder, more than to make a statement.
Through extended research and public prototypes we wish to understand both the current theoretical and practical limits of AI. But also to get a sense of what the public experiences as "AI", which is often very different from what AI actually is. We want to investigate how to visualise and personify "living" AI entities in both a realistic and practical sense, and potentially explore how AI in itself can be assistive and creative in this artistic process.
The project aims to investigate what is "real" – a person, an emotion, a presence, an entity? By exploring different realtime image and sound manipulation technologies, the borders between performer, stage, realtiy, fiction and art will be questioned – what is real, what is artificial? What is the role of the audience in context like this? This will be explored practically through multiple and frequent work-in-progress showings more than theoretical development.
Dramaturgy, musical content and visual style will be revealed and explored through the possibilities and limits that arises through working out the prototypes.
Overall project schedule 2018 – 2020
Winter/spring 2018
Develop concept, early prototypes, ideas, overview of research
Initiate first contact with possible commissioners, producers, co-producers, residencies
Develop overall budget, start financing through pre-production applications
Apply for residencies
Research potential partners and collaborators in tech, science and art fields
Summer/autumn 2018
Residencies, preliminary research, studies, software learning, sketches, running prototypes
First work-in-progress "betas", either public or private
Collaboration with programmers / technicians / computer science
Development of overall musical structure, dramaturgy, concept, narrative
Establish producers, co-producers, commissioner(s), agents
Establish production plan and budget
Apply for overall funding
Fall / Winter 2018 – 2019
Residencies, focused composition, production, programming, rehearsals
Collaboration and production with potential artistic partners:
Musicians / orchestras, choreographers, dancers, sound, light, scenography
Work-in-progress performs festivals and scenes Scandinavia / Europe
-Apply for performance and touring funds, promotion funds
Spring / Summer 2019
Production, rehearsals
Promotion, programming
Premiere
Perform at festivals / scenes / events in Europe
Perform festivals, venues and events for music, technology, art and media
Release music and video, as albums and short films
About the artist
Gisle Martens Meyer (full bio) is an award-winning Norwegian artist and composer, working within the contemporary fields of new media, live visuals, sound and music. His work deals with new technology, social media and digital culture, and how these spheres shape and structure our lives.
Martens Meyer has presented at, created productions and composed music for a wide range of institutions: Carte Blanche, Norwegian National Ballet, NRK, SONY Computer Entertainment, ZKM Karlsruhe, BIT20 Ensemble, Tanzhaus NRW Düsseldorf, Staatstheater Darmstad, InShadow Lisbon Festival for Cinema and Dance, Temps D'Images, Norwegian Cinema Society, Bergen Philharmonic Orchestra, Marseille European City Of Culture 2013, KORK, Hiroshima Barcelona, Festspillene i Bergen, Stavanger Concerthall. His work is also performed at and with unusual locations: Glacier, cloisters, abandoned buildings, ferry raiding the fjords, deep in the forest, at night in libraries.
Recent relevant works 
There Is No Here, Here – a pop-musical work that creates virtual music video realities live on stage. It investigates the "realities" we increasingly exist in, as we communicate increasingly through screens. The work has been shown at multiple European festivals for art, science and technology.
The Bow Corpse – a commissioned concert-work for contemporary music orchestra BIT20 Ensemble, using custom developed swarm simulators to clone each musician in the orchestra in realtime. The work deals with the topics of big data, privacy and surveillance, looking for information in sonic "trash", by cloning the invisible microsounds of live instruments into huge flocking swarms.
Atrophy In The Key Of Dreaming Books – is a media-work and performance for libraries, investigating the sound of knowledge, and exploring the abyss between digital and analogue information. The work uses and exposes microsounds from pages, books, shelves, libraries.
Additional info, workshop and presentation possibilities
For tentative technical specifications of the performance, please see separate tech rider. The artist works with the following artistic methods and technical platforms, available for workshops, presentations and artist-talks:
Artistic challenges and methods
Music, sound and songs as fundamental, coherent carriers and narrators of content
Combining and interacting with real and virtual "realities" and characters live on stage
Using videogame controllers and wifi video to enable wireless, roaming performances
Balancing artistic and performative presence with technical and digital "production"
Developing and presenting content simultaneously in multiple artforms (sound, video, text, performance)
Experiences and challenges operating as an artist in multiple fields of art, tech and science
Technical platforms and software
Logic Pro X, composition, scoring, mixing and production
Final Cut Pro, Motion, Photoshop, prototyping, processing and preprod of live visuals
Ableton Live 10 / Max4Live, overall control, live sequencing, live processing of sounds
VDMX 5, live processing, effects and grading of cameras / mixing of video sources
Unity 3D, live 3D/VR reactive and and responsive environments and characters
Wekinator, live real-time, interactive machine learning
Research and study courses to be followed
References, resources, inspiration, sources
Festivals and conferences for attendance, research, inspiration