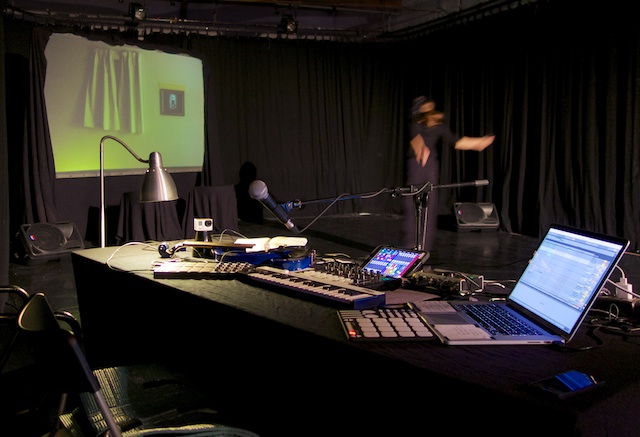 Two weeks at O Espaco Do Tempo a convent in Portugal, working on "Portal". A report! Photos! Video!
"Portal" is a contemporary dance performance with live music and sound, premiering at Oktoberdans in Norway, October 20th. I'm doing the music and sound, working with Nuria Guiu Sagarra, we worked together already for La Muda in 2013. Our stay in Montemor now, was our third residency with this performance. Previously we worked twice last year, once here in Montemor, Portugal and then at Graner in Barcelona.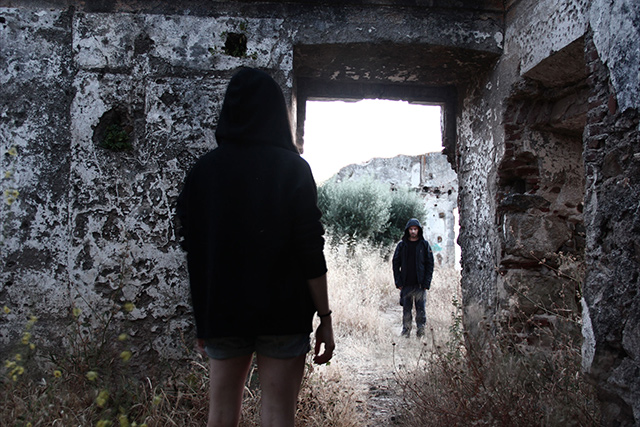 The theme of Portal, or my approach, is surprisingly enough… portals, transitions. Or transitioning, how to exist in multiple states, locations, realities at the same time. We are more and more existing at multiple places, states, conversations, lives at the same time. Like in an endless portal. Who, where is the real version of you? Is there one? What happens to a version of you when you're not paying attention to it? What happens if the portals between your you's disconnect?
We stayed at O Espaco Do Tempo, a magical place. It's a convent turned into a live-in dance studio complex, in the ruins of a huge castle on a hill overlooking the friendly town of Montemor-O-Novo. The complex has been a convent for nuns, and an orphanage for children. There are still bars on all the windows, communal kitchens, secret passages, rabbits in the courtyard, religious messages on the walls.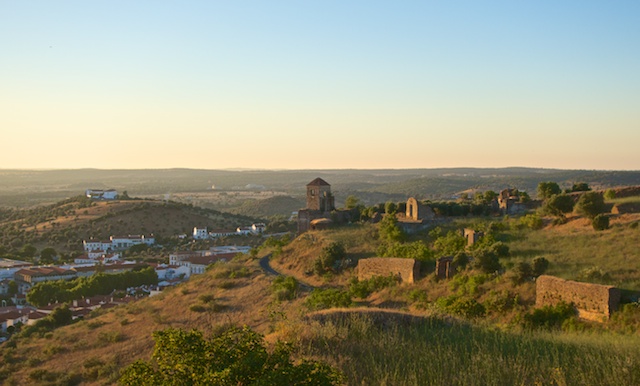 This is in the middle of Alentejo, a beautiful landscape of rolling hills and fields, everything covered in lazy grass and patiently spaced trees. The name O Espaco Do Tempo – A Space Of Time – is brilliant, and true. Inside the cloister courtyard the world outside disappears completely, sometimes it can be eerily quiet in there, conversations automatically become hushed and in the nights often turns to ghosts and haunts. The nights are like somewhere out of time.
My room (cell!) was in the courtyard, I liked getting up early and be one of the first to sit with a quiet coffee and just look at orange trees, the birds living in the lofts, and the central well, trying to note if the lid might have shifted a little during the night, where the ghosts came and went…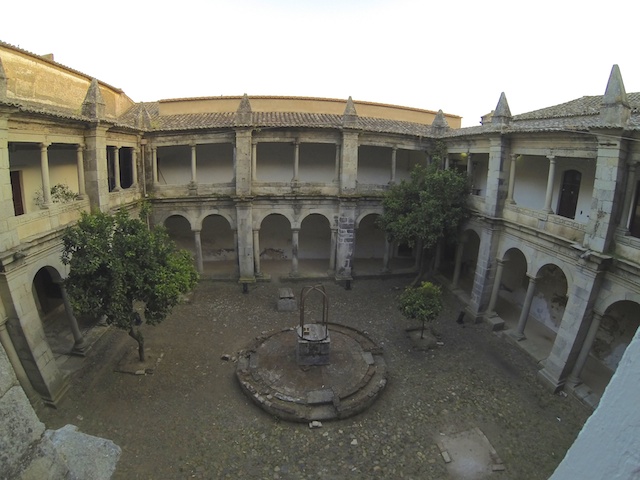 We worked in an old barn which has been remodeled into a dance studio. We could turn into a black box, so it was like being in a different universe within a different universe.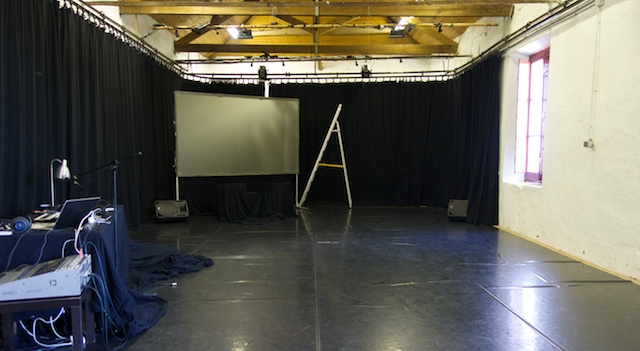 Our days would be like this; a simple breakfast in the courtyard, then work for some hours in the studio, sometimes separately on material on headphones, sometimes trying out our material with each other. Often filming and reviewing the footage, making notes and observations. The production included warm lunch, and this meal we often took together with teams of other productions in the cloister, there were maybe 3 or 4 other productions working in different studios and rooms. After lunch we continued working, and we tried having a run through of everything once a day, making notes and observations for adjustments and changes.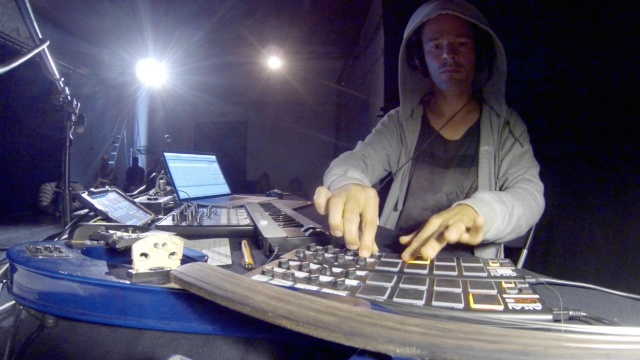 I then snacked, on incredibly juicy fruits that did not ripe in a container, often worked for some more hours preparing for the next day, and before sunset went for a run or a walk in the hills around the castle. I meet a lot of strange animals of all kinds of sizes.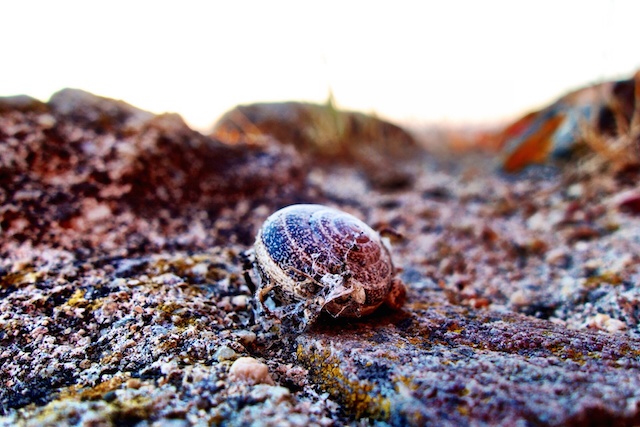 The lunch was often so large – or so full of carbs – we had enough for left-over dinners. Some nights we went down to town for a meal or a beer, at our favorite places, other nights stayed in, murmuring conversations about art, ghosts, fundings, travels, books, films, nothing, everything, in softly lit cloisters or kitchens.
It is interesting to observe now after these two weeks that I actually composed very little music at this residency. I mostly moved blocks of previously composed material from earlier residencies around.  I concentrated more on sound design and how to perform the different sounds and musical elements in a live context. At the moment I am working with an electric violin, keys, a lot of drum pads and controllers for playing and manipulating a large amount of virtual instruments, which again contain a lot of randomized prepared material. From a distance I can see the process has been idea – compose -produce – edit – cut up – re-compose – process – combine – trigger-combo – it's like I'm working on the nth generation of material created for the performance.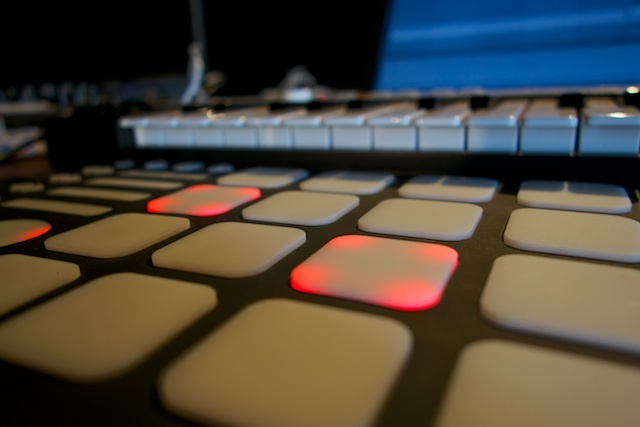 Sound- and concept-wise I'm working with transitions, changes, both the sound of change itself, and changes in sound. That sounds… vague, I know -and it is, it's hard to make something that really represents this subject both conceptually and concretely. I'm not satisfied yet with what I have, but I can see that it can work. Music, of course, is an obvious tool both to transition and to establish different "states", how music can be used to guide emotions, it is interesting that this is now almost the subject itself, not the tool.
Here's a simple video with some of the ideas I'm currently working with.
I'm using the violin for multiple roles, one is the string is a monophonic sound source, which then is post-processed (moved through portals) to become completely different sounds and textures. With one hand I generate an acoustic sound, like dragging a hair along the strings, then the other hand operates this raw sound into "Portals", like turning the violin into a 80-ies computer game console.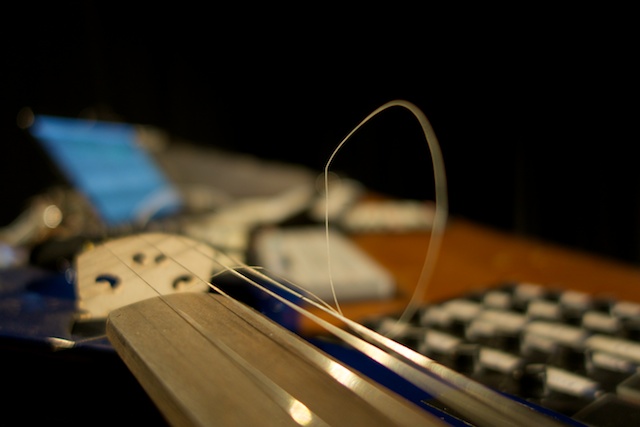 Another role is to use not the sound itself, but the sound as a controller for broken glitch sounds and fragments of thoughts – touching the strings generates signals which then again triggers a complex setup of samplers, who picks at random "thoughts" (pre-recorded ghostly phrases) or "portal breakdown sounds" from prepared banks of broken digital device sounds. The way I play the violin decides how these thoughts and breakdowns play out.
For the overall musical theme, at the moment I have the skeleton structure of all sound and music, and I know what should go where, but not the exact content of each part yet. And I'm not sure what needs performing and what can be sequenced or scripted. Some parts will be different for every performance. I still haven't found exactly how I want to perform everything, especially the transitions which I find the most important right now, and what instruments and tools I will use to express it, but have developed a lot of interesting techniques and effects, we have some sequences that we know works very well and will transition the socks of people. And then there are some sections that still need, ahem, a little work.
For each residency, we've made public beta-tests of the performance, and every time we receive very helpful comments and observations. This time we also had one, and it appears we're starting to actually have something good. Here's a Flickr bunch of stills and photos from the performance and our stay.
Still a lot of work to do, and we have another week of production in the actual performance space in Bergen, in September. By then the music, sound, video and lights should be finalized. A coffee, then let's get to work.