As always, an annual note on memorable media of the year.
Films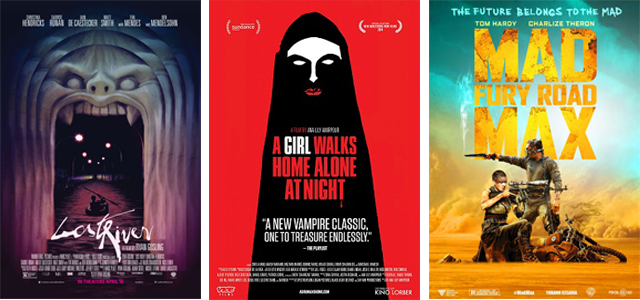 Lost River, by Ryan Gosling. I saw a Twitter post about the film: "Ryan Gosling confuses 'making film' with 'assembling Tumblr of David Lynch & Mario Bava gifs'. Dumb-foundingly poor". Uhhh? Tumblr confusion of David Lunch and Mario Bava…? Sounds like a brilliant cinematic approach, I am totally going to see that. And love that.
A Girl Walks Home Alone At Night, by Ana Lily Amirpour. A lonely vampire roams the deserted streets of a fake Iranian town. She lives in a quirky apartment and listens to really awesome music on her turntable. It scares the living shit out of me and I want to marry her. The palette is sordid and noir, not just the story, the characters and the cinematography, but the marketing also. You think it's an indie Iranian film, but it's not, but it is.
Mad Max: Fury Road by George Miller. When I was a kid, I was fascinated with the Roald Dahl story of Charlie and the Chocolate Factory. In particular, the moments when Charlie is having a bite of chocolate, or dreaming of having a bite. Not the factory, or the scale of the story, but the tiny moments of taste. The anticipation, the desire, the explosion of the senses… and the sugar rush. You know the taste is artificial, it is industrial, but it feels so good, and it only lasts, for that specific moment.
Fury Road is exquisite cinema chocolate. An epic punch of visual sweetness. I watched this film in a shabby, mostly empty Berlin cinema, with a bunch of scattered strangers, nobody knew what was about to happen, and we just laughed, laughed and laughed of delight. I cannot remember the last time I sat for 120 minutes with a grin on my face and my jaw in the popcorn and just HAD. SO. MUCH. FUN.
Honorable mentions must go to Victoria, The Duke Of Burgundy, Slow West, Under The Skin, Kumiko The Treasure Hunter, Ex Machina, The Wind Rises, The Imitation Game, Chappie and Jodorowsky's Dune.
Books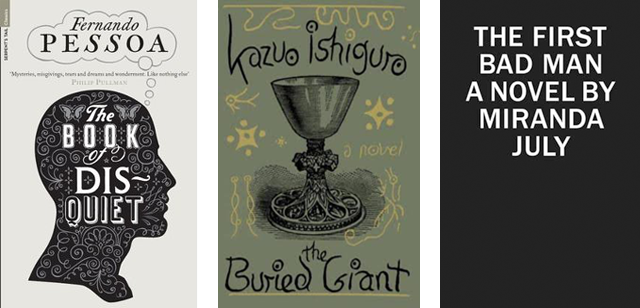 The Book Of Disquiet by Fernando Pessoa. This book, by far, is the best book of 2015, and potentially all of the 2010s. It will take me a decade to finish this book, because I spend days on half a page, and then stare into the void for hours, processing. I have a secret affair with Lisbon and Pessoa's lonely Lisbonism is the sad music that underscores it. It is a very beautiful book, and I'm terrified of summarizing it in a silly blog post. But it is the most important book for me in 2015.
The Buried Giant, by Kazuo Ishiguro. It is a story about memory, about life-long love, about history, about how we shape our lives and our memories (and our cultural history) by selective remembrance. And how love can keep us together, and how love can keep us blind. Mr Ishiguro is one of my favorite authors ever, and I got to hear him talk at the Literaturfestival Berlin this year, where I mostly appreciated how elegantly and flexible he navigates genres and labels, they are his tools for telling stories.
The First Bad Man, by Miranda July. I always loved July's stories and characters, maybe mostly because of their tepid helplessness and wrongness. They just can't seem to do anything right. Which are hilarious, and totally recognizable.
Honorable mentions must go to The Invisible Library series, The Earth Sea Quartet (re-read), The Three Body Problem, The Memory Garden, The Water Knife, The Handmaid's Tale (re-read), and The Peripheral.
I am very aware that all of my memorable books of 2015 starts with "The" in their titles and none of them are Norwegian or German.
Music
It was a tricky year for discovering music. Not because it was a tricky year for music, but because I didn't have much surplus time to listen. I had so much work, I don't think I ever composed as much music as this year. (Which is good, 2016 will be a lot of releases.) But I didn't have the attention available for new music. This might be both good and bad.

Platform by Holly Herndon. I like Mrs Herndon for two reasons. One is, her songs sound great, they are complex, they are dense, thoughtful compositions of sound and music. I love her processing, mostly with her voice, but also her surroundings, real samples. Secondly, she's really thoughtful and open with her communication about the why and the how, I like her "academic" approach.
The Imitation Game by Alexandre Desplat. The Imitation Game was one of my favorite films of this year, with a soundtrack by one of my favorite composers, Alexandre Desplat. I love how the score makes math and cryptography into something exciting and thrilling and human (which math already is). I also loved his score for the Grand Budapest.
Lust & Sound in West Berlin is a fantastic quasi-docu movie, that pretends to document a personal view of the music scene on West Berlin in the 80ies. It is interesting both because it kind of iconizes a bunch of people, and it also normalizes a bunch of people, and as this, I suppose is very Berlin. But the soundtrack, is FANTASTIC.
Honorable mentions. Noisia – Split The Atom, Silver Wilkinson – Bibio, Skydive Trio – Sun Moee, Various Artists – A Girl Walks Home Alone At Night, Yasmine Hamdan – Ya Nass, Hans Zimmer – Interstellar.
Art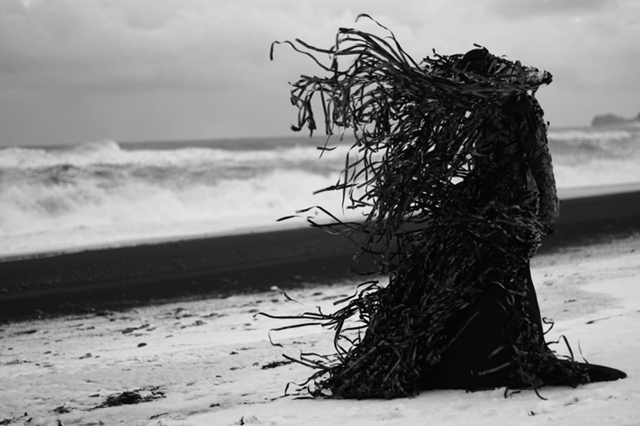 V by Philip Ob Rey, at Cell 63, Berlin. Creatures made of VHS. A wonderful, tactile, immersive art exhibition with massive amounts of VHS tape, turned into sculptures, figures, webs, and videos. Dead media zombie modeling.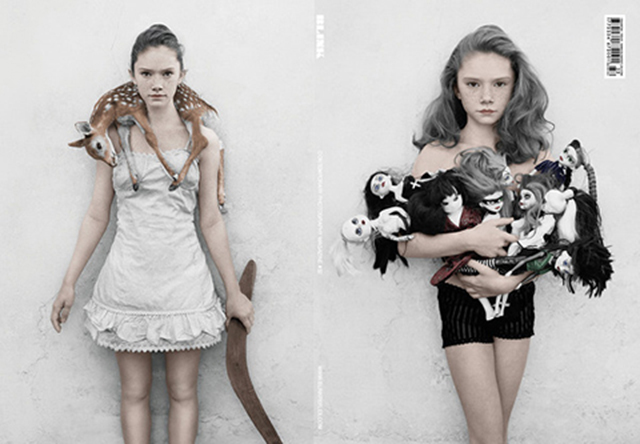 Bulletproof by Vee Speers, at Fotografiska, Stockholm. This was magical; a huge room filled with posters of teenagers on their way to an imaginary birthday party. But they are all dressed for the post-apocalypse, with weapons of hunt, decorations of gender entropy, symbols of destruction. And they all are paired with photos of themselves, seven years younger. Innocence, but how to live it.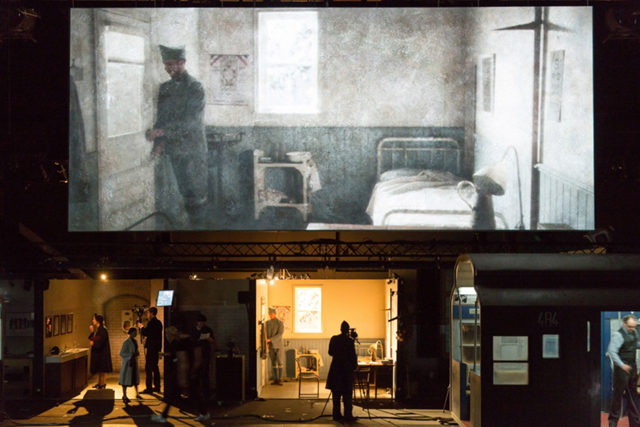 The Forbidden Zone, by Duncan MacMillan, directed by Katie Mitchell, at Schaubuhne, Berlin. This was probably the most important art experience for me in 2015, both as an experience in itself and as an inspiration.
It is hard to explain why, but: It is a really great and complex story, told with fantastic acting, live filming and great live sound design. The performance uses texts from Hannah Arendt, Simone de Beauvoir, Mary Borden, Emma Goldman, Virginia Woolf to tell stories of "invisible" women, their struggles, emotions and qualms of being connected to questionable men of wars.
The story is told in multiple ways; as a film, as a theatre play, as a meta event. As an audience, you can watch, or choose to watch, any or all of these elements, in real time. Like the film itself, or a directors commentary, or a trailer, or a making of, and all of them in realtime at the same time, like streams of reality. You can see a character in the story, being devastated by an encounter or conversation, crying on the metro, a physical train passing by on stage. And the film cuts to the next scene, your eyes are pulled to the cut, we are taught to follow cuts. But you can still, in the corner of your eye, see the character crying, in the train, on a separate part of the stage, not shown on the projection. The cut happened, but that part of reality is STILL HAPPENING. The story cut, but the person is still hurting.
We can edit reality but that does not change reality. Life is polyphonic, stories are often monophonic, but with The Forbidden Zone, the story also becomes polyphonic.
It is our fourth wall, we endlessly refresh.